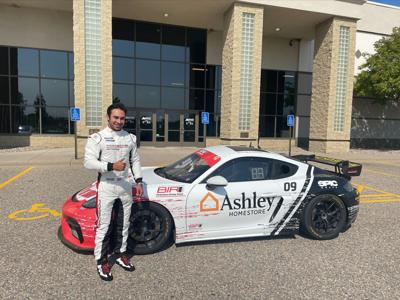 Thanks to our partnership with Ashley Homestore, we were able to have an exciting opportunity to showcase Alex Sajady's Porsche Sprint Series race car at our Shakopee location on September 11 and 12.  
This event was the first sponsorship event between Ashley HomeStore and Sajady, a Chanhassen native, since establishing their partnership.
Sajady has some big aspirations working hard to make the right moves and find the right people to have in his corner for support to try and make a name for himself in the racing motorsports world, and that's just super fun for us to get to participate in.
Shakopee residents and visitors could get a glimpse of the car in front of Ashley HomeStore. During our normal store hours, people were invited to see the car firsthand.  
There's no shortage of furniture retailers out there, so we try to do things uniquely and differently.  We're certainly excited about the relationship, and we'll definitely want to take advantage of it even more in the future.
While additional events have yet to be set in stone, we plan on brainstorming more ideas with Sajady for future promotional material. One idea includes the possibility of Ashley HomeStore customers winning a ride along in the racecar.