The Sioux Empire United Way in Sioux Falls, SD recently celebrated another successful fundraising campaign at its annual Thank You Luncheon. Seven hundred area businesses and more than 21,000 individual givers supported the 2022 Campaign. The dollars raised will fund 85 different programs that help children, vulnerable adults, and people in crisis.
During the event, awards were presented to individuals and organizations for outstanding community and United Way leadership.  Furniture Mart USA was honored as Business of the Year. This award is given to a company or organization that has greatly benefited United Way through its generosity and/or its employees' involvement.

In announcing the award, campaign chair Brian Bird said, "After seeing a less active campaign in past years – Furniture Mart, Ashley HomeStore, Carpet One, and Unclaimed Freight Furniture were determined to hit the reset button. Employee Campaign Manager Juliana Guzman and new leadership support led to an updated campaign plan and lofty goals. For the entire month of November, they focused on in-person rallies at four locations. Drawings and giveaways kept the momentum going. The end result was a 48% increase in employee giving and 182% increase in number of givers!"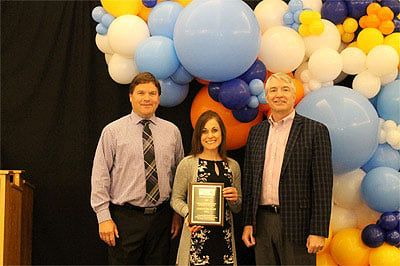 Furniture Mart USA is proud to accept this award on behalf of its 1,200 employees across our six-state region who support our local communities throughout the year. United Way is one of nearly 100 non-profit organizations supported by the Furniture Mart USA family each year.
For more information about the award and United Way: